Rudraksha
The Eyes Of Lord Shiva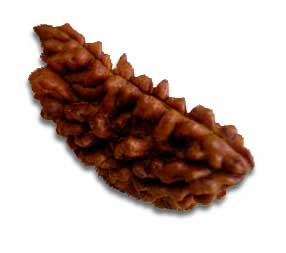 Rudraksha meaning—the eye of Rudra [Shiva] is considered to be the most potent manifestation of the Cosmic Force. Hence Rudraksha is the object of veneration and also the source to reach the higher self. Rudraksha is often believed to symbolize the link between the earth and the heaven. These beads are the seeds of the Rudraksha fruit obtained from Rudraksha trees. The Rudraksha tree is botanically known as ELAEOCARPUS GANITRUS ROXB. Its English name is UTRASUM BEAD TREE.
Rudraksha trees are mostly found in South Eastern Asian Islands of Java, Sumatra, Borneo, Bali, Iran, Java, Timor (Indonesia) and parts of South Asian Kingdom of Nepal. Around 70% of the Rudraksha trees are found in Indonesia, 25% in Nepal and 5% in India. Considered a major stress reliever, reducing circulatory problems and of course as the best beads, the berry (Elaeocarpus Ganitrus) was first spotted in Indonesia and is now grown in Nepal and Hardware. However, because it is expensive, clinical research of its medicinal properties has not been possible, often resulting in the berry being subjected to esoteric mumbo jumbo.
There are clefts called Mukhi on the surface of the beads. The number of Mukhi on the surface of a Rudraksha beads helps in determining its quality. According to the number of Mukhi the Rudraksha bead ranges from single face to a several faced bead. Asians have used Rudraksha beads traditionally. Asian Yogis and Monks found that merely wearing the Rudraksha beads gave them astonishingly tremendous amount of tranquility, concentration that helped them meditate for a long period of time with spectacular control over their mind.